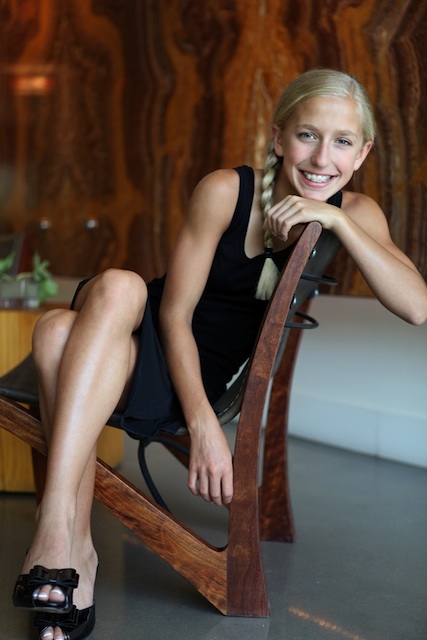 An ambitious young athlete, 14-year old Winter Vinecki has been making waves in the sport of triathlon, running and skiing. Racing these sports since the age of five, her competitive spirit has compelled her to be the best. By the age of nine, she found herself competing in an Olympic Distance triathlon; a distance usually reserved for seasoned adult triathletes. Winter initially had thoughts of racing as a means of bringing light to the growing epidemic of childhood obesity. This all changed one spring morning in 2008. Winter found her true cause in which to race for, founding Team Winter (501 (c) 3) to honor her dad.
In May 2008, Winter experienced personal hardship that would prove to be the defining moment in her life and career as an athlete. After a series of medical tests, her dad, Michael, was diagnosed with a rare and aggressive form of prostate cancer. The grim prognosis was met not only with sadness but also with determination. Winter vowed to do everything in her power to put an end to prostate cancer and help find a cure so that other families wouldn't have to endure the personal hardships that hers were going through. Thus, Team Winter became a vessel for funding prostate cancer research and raising prostate cancer awareness on a global scale.
After the passing of her dad in 2009, Winter's determination has only grown. While maintaining nearly all A's in Stanford University's prestigious online High School, EPGY, she travels almost every weekend to races in which she, her three brothers and her mom, Dr. Dawn Estelle, spread the word about Team Winter and prostate cancer awareness. She runs a Team Winter booth at various expos and undertakes speaking venues at schools with "Winter's Inspirational Talk Series", all the while racing each race with unrivaled passion. Winter is a two-time IronKids National Triathlon Champion. She recently set the world record for the youngest person to run 26.2 miles in Antarctica and is the overall female winner of the 2013 Inca Trail Marathon, labeled the "Toughest Marathon in the World".  Each first place trophy she receives is sent to a person affected by prostate cancer as a means of support and a gesture of goodwill. While most kids cherish their trophies, she cherishes the people she gives them to.
Today, the growth of Winter, as an athlete and Team Winter as an organization is exponential. At 14-years-old, companies such as Newton Running, Louis Garneau, Rudy Project and many others sponsor her. She spent three years as the Ambassador for the IronKids youth triathlon series encouraging kids to lead an active, positive and healthy lifestyle. Winter currently has her goals set on the 2018 Winter Olympics as an aerial skier and lives and trains at the Utah Olympic Park in Park City, UT. She uses running, triathlons and now obstacle course racing to help cross train and make her be the best athlete possible. Many of today's professional athletes and retired legends call her a friend, and she garners copious amounts of attention wherever she goes. Winter was recently recognized for inspiring and encouraging youth across America. Golf legend, Annika Sorenstam, presented Winter with the Annika Inspiration Award at Billie Jean King's 2011 Annual Salute to Women in Sports Gala in New York City.
But for Winter, it's not about the attention. It's about bringing vindication to her dad, who was given a death sentence in the form of prostate cancer; a disease in which one in six men will be afflicted with. She strives every day, sacrificing playtime and other luxuries kids her age take for granted to ensure that she is doing all she can to bring an end to this tragic and all-too-common disease. Some may find it hard to fathom that a 14-year-old is capable of all of what she has accomplished, but for her, it's only the beginning.
Winter plans on running a marathon on all 7 continents before she turns 15, to bring global awareness to prostate cancer.